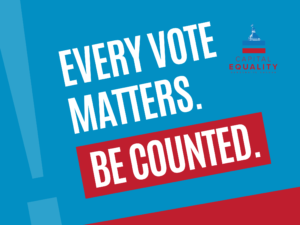 Join the Capital Equality Democratic Caucus for a Virtual Meeting focused on a community-driven Voter Turnout Project! Using postcards to reach voters in a local precinct, we will be encouraging vote-by-mail ballot requests to help boost Democratic turnout before Election Day.
Log on to Zoom and join us to learn more about this socially-distanced opportunity to make a difference from the comforts of home. A huge thanks to Barry and Darwin for sponsoring the first sets of postcards! Shout out to Robin and Linda for already volunteering to write 100 postcards!
The meeting will stream live on Zoom on Wednesday, October 13, 2021, beginning at 6:30pm, and is open to all Democrats.